---
A Patriarchal Blessing
from His Beatitude DANIEL
Patriarch of the Romanian Orthodox Church
"We address you a warm welcome here at the Patriarchal Palace in Bucharest and congratulate you for having chosen the Romanian Patriarchate as venue of this Orthodox Consultation on the theme of the teaching and practice of the ethics of peace in the Orthodox church. At the same time, we express our joy to be co-organizers of this international meeting—together with the Institute for Theology and Peace, with the World Council of Churches and with the Institute for Peace Studies in Eastern Christianity—which analyzes from an Orthodox perspective this subject, always topical, not only in theory, but also in practice. [...] The world we live in is, certainly, a world of the affirmation of the desire of domination over other people in all fields of human life—political, economical and social—which generates conflicts of inter-human, inter-ethnic and even inter-religious interests. [...] We bless the works of this consultation and wish you every success in your efforts as promoters of peace and human dignity." (fragments from "Peace: A Divine Gift and Human Responsibility," pp. 3-4 in Just Peace: Orthodox Perspectives edited by Semegnish Asfaw, Alexios Chehadeh, Marian Gh. Simion. Geneva: WCC Publications, 2012.)
---
Harvard Associate Dean
Praises Romania's Religious Landscape
According to an interview published on the website of Harvard Divinity School, "Romania has made significant progress in its trek from Communism, but the path toward change has been a long and difficult one. With that in mind, Romanian government officials organized a conference on religious freedom where they sought the insight of thought leaders from around the world, including Harvard Divinity School's Dudley Rose, Associate Dean for Ministry Studies." (more...)
---
IPSEC Summer Institute in Romania
The summer institute will take place between May 23 and June 2, 2015. For details, or to download an application, please visit our website, www.orthodoxpeace.org, or contact Dr. Marian Simion at +1.978.339.3233; e-mail: msimion@orthodoxpeace.org. (press release) (download poster)
---
IPSEC Founder on TrinitasTV
Dr. Marian Gh. Simion speaks about IPSEC activity in the context of an exclusive one-hour interview on the theme Conflict and Fragmentation in Post-Modern Society, on TrinitasTV, Bucharest, Romania. (video)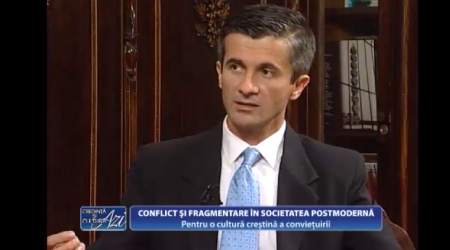 ---
Does Orthodox Christianity
have a Just War theory?
In general, Orthodox theologians agree that the Orthodox Church does not have a Just War theory in the Western sense. While abhorring war, historical records indicate that the Orthodox Christians have often been involved in brutal military enterprises, cases in which, in the public square, the Orthodox Church failed to remain loyal to the pacifist principles of the Gospel and early Christian martyrdom. Concerned both with preserving its reputation of a martyr church and with the creation of a public image of an anticipatory Samaritan, the Orthodox Church made concessions to the state by occasionally endorsing its authority to use lethal force against internal and external aggression. These concessions were broad in nature and were only made out of a conscious strategic interest of both church and state to protect the defenseless against any form of abuse and also maintain political stability." (Source: Marian Gh. Simion "War and the Right to Life: Orthodox Christian Perspectives" pp. 188-206 in Religion and Public Policy: Human Rights, Conflict, and Ethics edited by Sumner B. Twiss, Marian Gh. Simion, and Rodney L. Petersen, Cambridge, New York: Cambridge University Press, 2015, here 188.)
---
International Orthodox
Christian Charities (IOCC)
IOCC is the official humanitarian arm of the Assembly of Canonical Orthodox Bishops of the United States of America. Since its inception in 1992, IOCC has delivered nearly $500 million in relief and development programs to families and communities in more than 50 countries. IOCC is a member of the ACT Alliance, a global coalition of more than 130 churches and agencies engaged in development, humanitarian assistance and advocacy, and a member of InterAction, the largest alliance of U.S.–based secular and faith-based organizations working to improve the lives of the world's most poor and vulnerable populations. We strongly encourage you to learn more about IOCC, and become involved with its work. For details, please visit www.iocc.org.
---
IPSEC forthcoming book
We are pleased to inform you that IPSEC is in process of publishing its third volume, Faith and Politics: Emperor Constantine, Orthodox Church and Freedom, edited by Marian Gh. Simion and Cristian S. Sonea. This book will be published this Spring together with Presa Universitară Clujeană of the Babes-Bolyai University of Cluj-Napoca Romania. (Paperback: ISBN-13 978-0-9835779-2-8 | ISBN-13 978-973-595-760-9).
---
IPSEC: Field Education Site
for Harvard Divinity School
The Institute for Peace Studies in Eastern Christianity is affiliated with Harvard Divinity School as a field education agency. IPSEC offers educational services to graduate students interested on the role of Orthodox Christianity in international relations, conflict, and policymaking. (details...)
---
The world we live in…
For more news about conflicts affecting Orthodox Christians around the world, click here!
---
Donations Welcome!
Your donations help us invest into the future of Orthodox Christians, now suffering from conflict, marginalization, and poverty. IPSEC is a tax deductible 501(c)(3) entity under the U.S. Internal Revenue Code, Section 170. Tax deductible donations can be made payable to "Institute for Peace Studies in Eastern Christianity" and mailed to Institute for Peace Studies in Eastern Christianity (Harvard Square) P.O. Box 380246, Cambridge, MA 02238-0246, U.S.A. Thank you!
---