---
---
IPSEC
Reorganized
The Institute for Peace Studies in Eastern Christianity (IPSEC) has been reorganized so as to focus its work on research, education, and consulting. This reorganization was necessary in order to increase its effectiveness as an agent of change, and also to distinguish its own work from the work developed by similar organizations such as the International Orthodox Christian Charities and the Orthodox Peace Fellowship.

While Orthodox Christianity remains at its epicenter, the departure from an ecclesiastically oriented programming, along with the adoption of a meta-institutional approach, became necessary for strategic and ideological reasons. The manifestation of religious faith (including that of the Orthodox Christians) is no longer restricted to institutional and cultural confines, as it engenders worldviews that transcend organized religions and permeate all aspects of human life. Thus, to become effective and meaningful, Orthodox peacemaking—which is at the core of IPSEC's mission—ought to take a holistic and process-oriented approach to conflict, while also refining the self-understanding of the Orthodox Christians living in a globalized world; beyond the mental ambush of nationalism.

At the same time, we strongly encourage you to become involved with the humanitarian work developed by the International Orthodox Christian Charities, and take advantage of the resources provided by the website of the Orthodox Peace Fellowship.

IPSEC remains an independent charity organization, registered in the Commonwealth of Massachusetts as a tax deductible 501(c)(3) entity, approved by the IRS under the U.S. Internal Revenue Code, Section 170.

IPSEC also shares programmatic partnerships with various institutions from EU, and an affiliation with Harvard Divinity School as a site for field education.
Sincerely,
Marian Gh. Simion, PhD
IPSEC Founder & President

---
---
Call for Papers
International Multidisciplinary Conference

IPSEC and the Scientific Press cordially invite you to attend and present a paper at the international conference, "The Future of Knowledge: Multi-Disciplinary Perspectives." This conference is organized by the Scientific Press together with IPSEC as part of the "Harvard Square Symposium," and it will be held on-line during April 28-29, 2016. The deadline for registration and abstract submission is April 18, 2016, and the paper is due on April 18, 2016. For registration and details, please visit: www.scientificpress.org
---
---
Harvard Associate Dean receives
Honorary Doctorate in Romania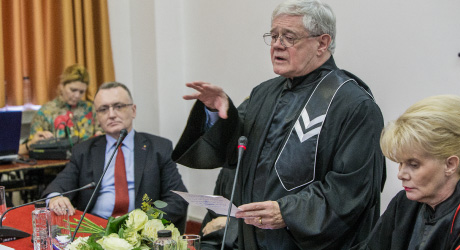 Upon IPSEC's informal recommendation, Rev. Dr. Dudley C. Rose, the Associate Dean for Ministry Studies at Harvard Divinity School, was awarded the degree of Doctor Honoris Causa by Dimitrie Cantemir University in Bucharest, Romania. The degree was awarded in the presence of academics and government officials including the Prime Minister of Romania, vice-president of the Romanian Senate, former ministers of education, foreign affairs, and university professors from Romania and Western Europe. Dr. Rose was also a keynote speaker at the Romanian Parliament, and appeared on several national TV channels in Romania as a featured guest. [Photo: Rev. Dr. Dudley Rose flanked by Prof. Dr. Sorin Cîmpeanu, then interim Prime Minister of Romania and Minister of Education (right), and Prof. Dr. Corina Adriana Dumitrescu, Chair of the Board of Trustees of Dimitrie Cantemir University (left).]
---
Yuchi Che joined IPSEC

We are pleased to welcome Ms. Yuchi Che as an Intern for the academic year of 2015-2016. Ms Che was born in Yan'an, China, and currently studies towards her Master of Divinity degree at Andover Newton Theological School. Ms Che is a theologian and a scientist, and holds a BA degree in science from the national China University of Geosciences, in Beijing, China. At IPSEC, Ms. Che focuses her work on religion and diplomacy, developing various strategies designed to comprehend the function of religion in interreligious and intercultural communication. Ms. Che joined IPSEC as a field education intern via Harvard Divinity School, and is also the author of the Chinese version of IPSEC's new website.
---
IPSEC at the Parliament of Romania

During November 18-19, 2015, IPSEC served as an institutional partner in the organization of the international scientific conference titled, "Legislation, Ethics, and Religion: An Approach from the Context of Religious Freedom." The Romanian Parliament (Chamber of Deputies | Committee for Legal Matters, Discipline and Immunities) and "Asociaţia Conştiinţă şi Libertate" (The Conscience and Liberty Association from Bucharest), were the main sponsors of the conference. Additional institutional partners included International Religious Liberty Association (USA), Université Paul-Valéry Montpellier (France), and the Essachess-Journal for Communication Studies (France).
---
IPSEC has Two New Partners
During the summer of 2015, IPSEC entered into two new partnerships with Romanian Universities for the purpose of cooperation and exchanges. The first Memorandum of Agreement for Academic Cooperation was signed with "Athenaeum" University of Bucharest, Romania on July 2, 2015, and the second Memorandum was signed with the Faculty of Orthodox Theology from Alexandru Ioan Cuza University of Iasi, on July 24/September 17, 2015.
---
Dr. Simion speaks on
TERRORISM on TrinitasTV
In the aftermath of the Paris terrorist attacks, Dr. Marian Simion was invited by the Romanian National Channel, TrinitasTV, for an hour-long expert discussion titled, "The Global Effects of the Terrorist Attacks from Paris: How the World Changes." The discussion was held in Romanian, and it is available on youtube. (https://www.youtube.com/watch?v=24boj45Uf5k)
---
The world we live in…
For more news about conflicts affecting Orthodox Christians around the world, click here!
---
Donations Welcome!
Your donations help us invest into the future of Orthodox Christians, now suffering from conflict, marginalization, and poverty. IPSEC is a tax deductible 501(c)(3) entity under the U.S. Internal Revenue Code, Section 170. Tax deductible donations can be made payable to "Institute for Peace Studies in Eastern Christianity" and mailed to:

Institute for Peace Studies in Eastern Christianity
(Harvard Square) P.O. Box 380246,
Cambridge, MA 02238-0246, U.S.A.

Thank you!